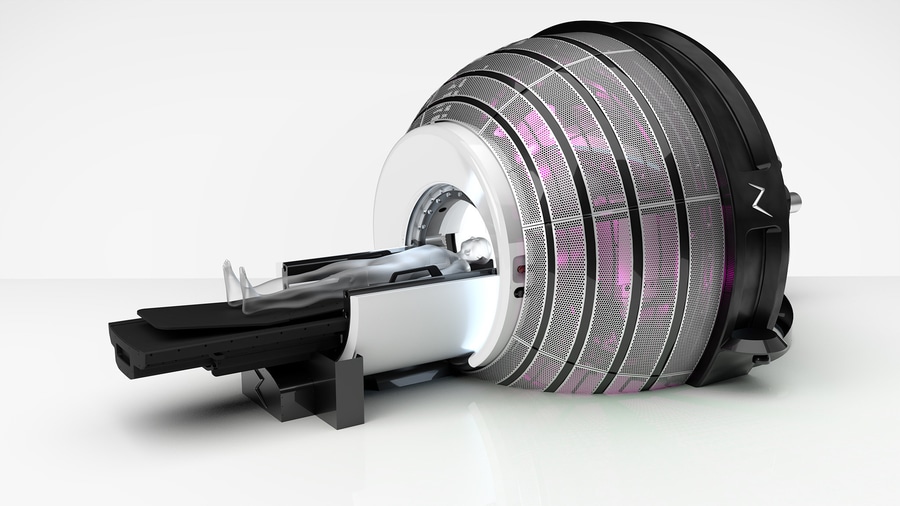 ZAP-X© – New and more accurate radiosurgical options in the treatment of diseases deep inside the head.
High-precision treatment with focused X-rays effectively and sustainably destroys tumors or other diseases (see below) and spares healthy tissue to the maximum. This effective and at the same time low-risk therapy can even avoid surgery in some cases.
The latest device for this therapy is called ZAP-X. Treatments with it have recently become possible in Zurich.
The device directs focused X-rays from different directions onto a precisely defined area (e.g. tumor) in the skull. The tissue is only destroyed where the beams cross, the surrounding tissue remains intact.
This device is considered by many experts to be an important innovation in dedicated intracranial radiosurgery that could replace the previous gold standards. It combines the proven multi-isocentric technology of the Gamma Knife with state-of-the-art Linac technology and tracking methods of the CyberKnife while being completely self-shielding, making a complex and costly radiation shelter unnecessary.
The procedure usually takes less than 1 hour, is absolutely painless, and is performed on an outpatient basis. The entire treatment including planning CT and MRI can be performed in one day.
Treatment process with the ZAP-X
Discussion: Detailed and confidential discussion with radio-oncologists and neurosurgeons, giving you a sound basis for making a decision on treatment. In cooperation with medical physicists and the "Onkoboard", all therapy options are discussed. In this way, you receive an individual and independent treatment recommendation.
Imaging and mask fabrication: A CT scan and an MRI scan are necessary for individual radiation planning. Before the scans, a mask is made which serves to fix the head in order to be able to guarantee the highly precise therapy.
Irradiation planning: In order to be able to carry out irradiation with sub-millimeter accuracy, the image data sets are used for irradiation planning. Great importance is attached to the greatest possible protection of healthy brain tissue
Treatment: The outpatient one-time treatment takes up to 1 hour and is painless. The head is fixed in place with the mask. Since the ZAP-X device is much roomier than a conventional MRI device, claustrophobia rarely occurs. If desired, a sedative medication can be administered. The patient is video-monitored during the treatment. Communication is possible via an intercom system. The treatment can be interrupted at any time.                                                                            
Follow-up care: Regular check-ups are important. These can be carried out at the center in Zurich or, if desired with the treating doctors, at the patient's place of residence.
The ZAP-X is used for the following diagnoses::
Benign brain tumors such as vestibular schwannoma / #acoustic neuroma, #meningioma, #pituitary adenoma, #neurinomas of other cranial nerves, #glomus jugular tumors.
Malignant brain tumors such as #brain metastases, #glioblastoma (#recurrences), #chondrosarcoma, #chondroma
Eye tumors such as #choroid melanoma, #retinoblastoma
Vascular malformations such as #ateriovenous malformation, #cavernoma
Functional diseases such as #Trigeminal neuralgia
We will be happy to provide further information. Please contact us.